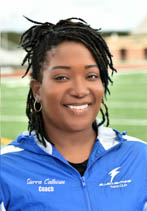 Coach Sierra Calhoun
Hurdles / Jumps Coach
Coach Calhoun Competed for UNF in the heptathlon 2009-2012. Event expertise (Shot Put, Javelin, Discus, Hurdles, Sprints, Jumps, 400). She is the Newton High Assistant Track Coach 2021-Current. She was the Head Girls Track and field Coach Edward H. White High School (2014-2018), and Girls Head Weightlifting coach Edward H White High School (2015-2018).
Mother (2-year-old son & 9-year-old daughter). Athletics in the family – her husband coaches basketball at Newton HS and on the AAU circuit.
Education
University of North Florida Alumni
Hometown: Jacksonville, Fl.